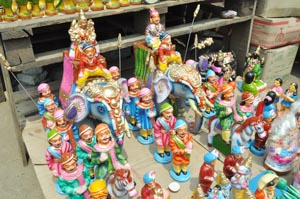 Mada Streets in Mylapore are flooded with dolls for Navaratri.
We took a close look at the different sets of dolls at 5 different hawking places at North Mada Street on Thursday.
Here is a check list from the variety – Sangeetha Moorthigal to Srinivasa Kalyanam depicting scenes from ancient legends, personalities and image of Gods.
The Meenakshi Kalyanam, the Mysore Dussera procession and the Vaikuntam set. Head to Gunaseelan who sits at the entrance of Indian Bank.(photo left)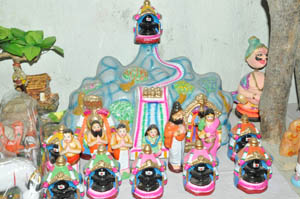 Sri Jyothi Handicrafts' specials in Velur Lakshmi Ammal Chatram. (near GSS). The Guruvayurappanprocession, Kuberan set, Aishshwara  Ishwaran, Vishvaroopam darshan of Mahavishnu along with Arjun. The Kondapalli set of Dasavataram and Bharathanatyam dance recital stands out.(photo left)
Meena who sits near near TPS Jewellery has Naga Poojai set, Pal Kudam thiruvizha procession, Karthigaipengal, ear-piercing ceremony set and Ashtalakshmi.(photo bottom most left)
Selvam has a stall near Ishwarya Jewels. Look out for Thiruvannamalai darisanam, the Sun God in a chariot with a charioteer and horses, the complete Hindu wedding scene at a mantap set.(photo bottom most right)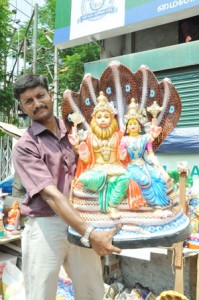 A Papier mache Lakshmi Narasimha image is on sale outside Corporation Bank. It is 3 feet tall.(photo left)
<<To view a video on kolu dolls an sale at North Mada Street click here>>
Want to share doll shopping tips? Mail them to mytimesedit@gmail.com and we will post them at www.mylaporetimes.com