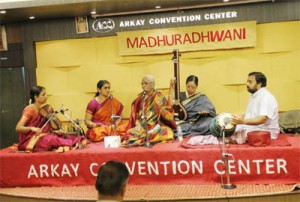 Madhuradhwani, a new music sabha was inaugurated on October 25 at Mylapore.
The inaugural function was presided by N. V. Devi Prasad. He also spoke on the occasion.
Arkay Ramakrishnan, Managing Trustee of Madhuradhwani welcomed the gathering.
The inaugural concert was presented by R. Vedavalli and party.
The sabha functions at 'Oms" Lakshana", 146 R H Road, Mylapore. Ph: 2466 1130 / 93810 07317.