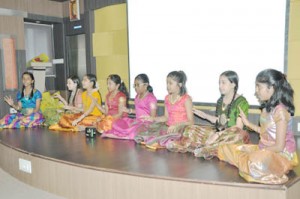 It was indeed a community event on a sunny evening on Saturday last, October 27. For, it was time to celebrate the people who had registered for the annual Mylapore Times Kolu Contest, revived this year.
The function was held at the Arkay Centre in Luz.
It started with refreshments and to put the guests in the mood, the junior sishyas of guru Subha Ganesan, a Mylaporean presented three songs for the occasion. Simple theme songs set to Carnatic music.
Then it was time to screen the video – an edited version of the visual shots taken of all the kolus entered for this contest. These had been shot during Navaratri week and compiled.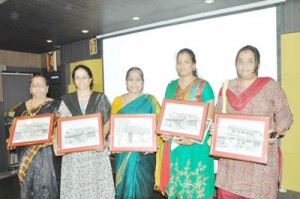 This was done in order to allow guests to see the kolus that everybody in the event had created. Though they ran for about 10 to 15 seconds the video clips gave us an idea of the kolu.
Almost all the kolus stuck to tradition and many families had set up creative, thematic models, mostly religious or cultural in nature beside the kolu. Those who lived in small spaces made great use of the space to set up a small kolu, the visuals demonstrated.
These visuals had been screened by the judge, Gayathri Sankaranarayanan of Mylapore to arrive at 15 winners.
Certificates and a small gift, sponsored by Lucky Ganessha of Alwarpet were given to all participants present ( the packs are also available at the Mylapore Times office to be collected by those who could not make it to this function).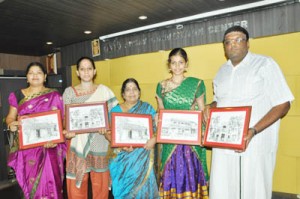 Finally, it was time to recognize the best 15 kolus and their makers. The winners got gifts and vouches from Rex Fashions, Poompuhar Handicrafts and Subham Ganesan. Classic Creations bore a part of the hospitality bill.
The 15 winners were Bharthi Chandran of Venus Colony, Subramaniyam of R. A. Puram 1st Main Road, Varsha of Jeth Nagar, Chandramouli of Warren Road, A. Chandrakala of Sri Ram Colony, Malathi Ramarathinam of Alamelumangapuram, Geetha Vasudevan of Mylapore,  Revathi of Appu Street, Kalyani of Karaneeswarar Koil Street, Vidya Arun of Karpagam Avenue, Sanjana A. of I Trust Link Street, Gangadharan Sumathi of Singari Street, Saratha Sambamurthi of Bangaru Ammal Street, Kapalishwaran of Pitchupillai Street, Meera Rajesh of Thiru Vika Road.
Click here to see more pictures of the event.