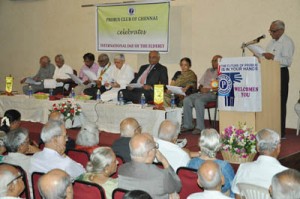 Probus Club of Chennai, had organised International Day of the Elderly on Oct.1 at TAG Centre, Alwarpet.
About 250 seniors gathered on the occasion.
Gopalakrishna Gandhi, former Governor of West Bengal was the chief guest.
Rajendran Sabanayagam, President Rotary Club of Madras and Ann Lalitha Raghupathi, President, Inner wheel were the special guests.
Probians who have completed 75, 80 or 90 years were honored with mementos.
S. Srinivan age 89 and resident of Murray's Gate Road and V. L. Aiyer age 81 and resident of TTK Road were among those who were felicitated.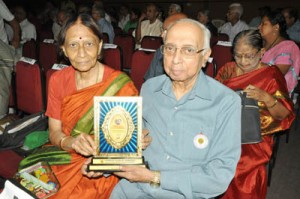 G. V. Ramakrishna and his wife Dr. Lalitha Ramakrishna (seen in the photo), residents of CIT Colony was awarded felicitated with a memento for completing 50 years of married life.
Winners in the games and cultural competitions held for Elders in connection with this celebration were also presented with prizes.
A book "Probus way to Dignified Ageing" containing useful information and articles focusing on Elders was released on the occasion. It was released by the chief guest and the first copy was received by Rajendran Sabanayagam.
Probus Award of Excellence was presented to Kulandei Francis, a Magsaysay award recipient -2012 and President IDVP Krishnagiri, TN.