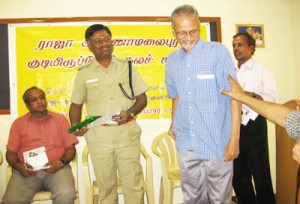 The third quarterly meeting of the R. A. Puram Residents' Association was held on October 14.
The meeting was attended by more than 100 residents.
There was also a lecture on "Care of the Kidney" by Dr.Edwin Fernades, Professor of Nephrology from Stanley Medical College.
R. Sampath, one of the senior residents of R. A. Puram was honoured with a citation.
Jhansirani, Councillor of Ward 123, Rajendran, Deputy Commissioner, Traffic, S. Sampath, Assistant Commissioner, Corporation of Chennai and representatives from Ramky were present for the occasion.
Residents presented civic issues at the meet. These included – request to put an end to haphazard parking of cars in 4th Cross and 2nd Cross Roads, speed breakers to be laid and the old ones repainted, stray cattle menace on the streets of R. A. Puram to be curbed, create slopes alongside the construction of  storm water  in 1st Cross Road, fullscale and immediate removal of the muck removed from the storm water drains and creation of sand beds on either side of the road to encourage percolation of rainwater.
The officials promised to address the issues raised by residents
Sampath, Assistant Commissioner, Corporation zone 9, promised to complete the storm water drain work within 2 weeks
Police officer Rajendran said that illegal parking on roads by commercial vehicles will be detected by ITMS ( Integrated Traffic Management system) to be introduced in 2 to 3 months in Chennai.
Mukund of Ramky Enviro Engineers said that the agency will inform residents about the time of garbage collection so that people can co ordinate its disposal.