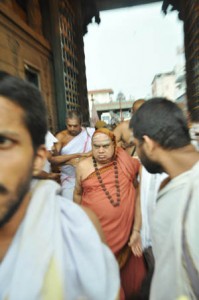 His Holiness Sri Sri Bharati Tirtha Mahaswamigal, Jagadguru Shankaracharya of Dakshinamnaya Sri Sharada Peetham, Sringeri visited Sri Kapaleeshwarar temple at evening of Sep.30.
He was welcomed in a traditional manner.
On one side of the temple's entrance, a group of people performed the Chenta melam. On the other side were the temple officials lined up with trays of fruits, flowers. A flower carpet was spread on his path towards the Temple.
His Holiness visited the sannadhis at this temple. He then, spoke at the occasion at the mandapam.
Around 1000 people were present for the occasion.
<<To view a video on this event click here>>