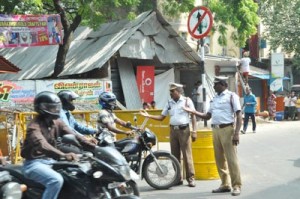 Srinivasa Avenue Road, R. A. Puram has now been made one way. This road connects Kamarajar Salai and R. K. Mutt Road.
Entry into this road from Kamarajar Salai has been banned now. Traffic police have erected a 'no entry' sign board here and have a few cops were seen redirecting people.
This road has a school and following many complains about heavy traffic we have decided to try this out, says a policeman here.
They intend to try this out for a week and based on the feed back this road may be made a permanent one way.