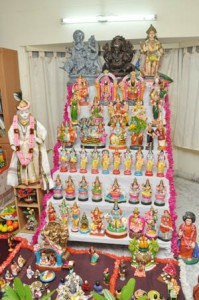 The Mylapore Trio of Sri Sumukhi Rajasekharan Memorial Foundation have been organising workshops and lec-dems on kolu.
Surendranath, one of the Trio, shares 2 tips here- Ceiling decoration is a must. Traditional dolls of marapachi should be included.
To view a video on the Trio giving tips click here.
WORKSHOP FOR DUMMIES:
On Oct.6 the Mylapore Trio have organised a workshop in Mylapore.
Call to register 93826 98811 / 93810 38385.