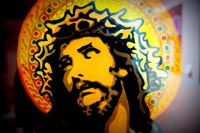 Dhyana Ashram (Jesuit Retreat House) and Chennai Christian Artists' Association is organising Christian Art Exhibition from Nov.24 to 30 at Dhyana Ashram on Madha Church Road.
The objective of this is to exhibition is to encourage young talent, offering them a platform to exhibit their art, which would be so expensive to do elsewhere in the city, says Fr. Thambu Raj, organiser.
On display will be both Christian art and general themes in pencil sketches, water – colour, oil on canvas, photography and even cartoons.
Ph: 2464 2821, 2493 4414.