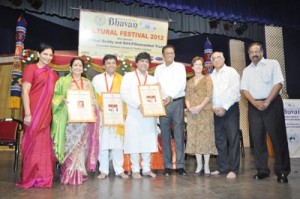 What a start to the December season! The auditorium was packed, even the top floor. And there was only standing space in the wings in the main floor.
The annual fest of Bharatiya Vidya Bhavan was launched today at its premises in Mylapore by Jennifer McIntyre, American Consul General based in this city in the presence of guest Preetha Reddy, MD of Apollo Hospitals.
The formal event also included the presentation of a string of awards – the top two given to popular vocalist Aruna Sairam and violinists, Ganesh and Kumaresh, brothers.
Three others were also recognised – the Bhavan's Chennai Kendra Cultural Awards were  given to nadaswaram guru Seshampatti Sivalingam, makeup artiste K. Sethumadhavan (photo below), tambura artiste R. Lakshminarayanan and young flutist Sruthi Sagar.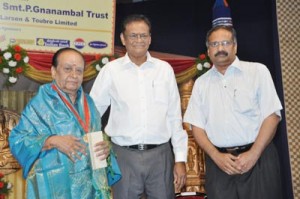 It was a very appreciative audience – the big cheers reserved for the veterans who were decorated on stage.
A concert by sisters Ranjani and Gayathri followed – again a packed one wit rasikas filling in in the corridor and in the yard where CCTVs have been set up.
It drizzled and the temperature dropped – perhaps a good omen too to the start of Season 2012.
And as BVB Chennai Kendra Chairman Sri Sabaratnam said, "The entire fest is free and its for Mylaporeans to enjoy it."
Mylaporeans certainly have the best. The best first.
<< Share your concert experience in our comment sections – we also use them in our newspaper >>