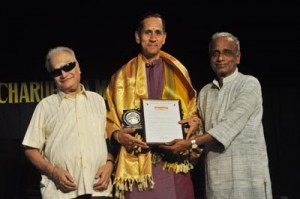 Nadopasana Srinivasan conferred 'Veena Nada Mani' award on Mudikondan S. N. Ramesh during an award function on Nov.20.
This was organised by  Charubala Mohan Trust at P. S. School hall, Mylapore.
A three day music festival is on here till Nov.22.
This Trust is managed by Violinist Dr. M. Chandrasekaran in memory of his parents.
On Nov.22, Dr. M. Chandrasekaran birthday will be celebrated followed by a slide show.
Open to all.
Seen in the photo are (L – R) M. Chandrasekaran, Mukidondan S. N. Ramesh and Nadopasana Srinivasan.