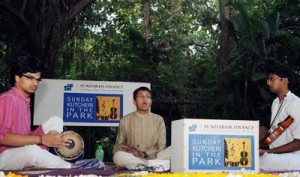 Prithvi Harish presents mikeless Sunday Kutcheri in the Park on Dec. 2.
This 13 year old student of Chettinad Vidyashram is the disciple of Madhuram Srinivasan.
Prithvi was accompanied on the Mridangam by TV. Srivatsa and Violin by T. Srikanth.
The idea behind the Kutcheri in the Park is to promote young musical talent aged below 15. For registration call 94450 34557 or 2852 1181.