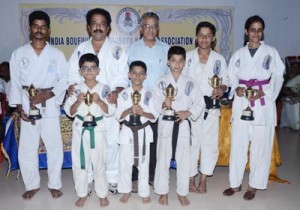 All India Boufuuukai Isshinryu Karate Association conducted a district level tournament on Dec.9 at P. S. School, Mylapore.
Karate Thiyagarajan, President, All India Karate Federation (AIKF) and Sensei Kanagaraj, Technical Director, AIKF inaugurated the event.
Also present were G. V. S. Goplakrishnan Retd. I.P.S., Secretary, P.S.Higher Secondary School, Mylapore, P.T.Kumar, President, Rotary Club (ERA) and V. Srinivasan, Inspector, Abhiramapuram Police Station.
About six children from the neighbourhood won the grand Championship Trophies. They are K.V.Sudharsana Goutham, Black belt senior (boys) of Mylapore, Aryan Sreeram Anand, Black belt junior (boys) of R. A. Puram, Sudha Vijay, Colour belt senior (girls) of Jeth Nagar, R.A.Puram, G. Acyuth, Colour belt junior (boys) of Dr.Ranga Road, A.Vikram Adithya, Color belt senior (boys), of Mylapore and Mukunth. L. Bharadwaj, Color belt Junior (boys) of Luz Church Road (seen in the photo).
All India Boufuukkai Isshinryu Karate Association is located at Mandavelipakkam. Ph: 98400 18628.