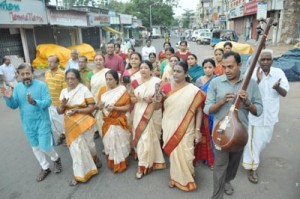 Margazhi dawned on a grey Sunday morning and the inner streets of Mylapore took on a hue and colour that reflects this season of  devotion and music and bhajans.
Out on the mada veedhis around Sri Kapali Temple, bhajan groups started their rounds as early as 6 a.m. Prominent among them is the one led by Rukmini Ramani, who carries on the famed tradition of her father, the famous Papanasam Sivan, composer, artiste and guru.
The bhajan groups will keep at their religious calling every morning through margazhi.
Similar groups can be seen doing the rounds in other old parts of this area.
Also, residents who stick to tradition get up early to design large pulli kolams at their doorsteps and on the streets and lanes. The visual delights can be seen in Nadu and Appu Mudali Street, Chitrakulam area, Apparswamy Street and elsewhere.
<< Share your margazhi events and pictures with us. mail to – mytimesedit@gmail.com.