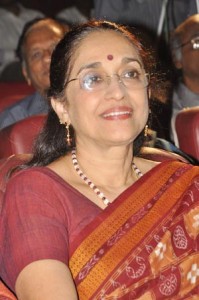 40th Wisdom award festival was held on Dec.12 at Narada Gana Sabha. Justice S. Mohan, former Judge, Supreme Court of India and Justice S. Rajeshwaran, Judge, Madras High Court were the guests of honour.
Justice S. Rajeshwaran released the 40th annual special issue of 'Wisdom'.
Jayashree Raveendran, Founder and Honorary Executive Director Ability Foundation released the 2nd annual voice edition CD of Wisdom for visually impaired and speech.
Dr. Nanditha Krishna of C. P. Ramaswami Aiyar Foundation was presented with the Lion Dr. K. V. Govinda Rao Memorial Wisdom award (photo on left).
Among the awardees were Dr. R. Madhavan was awarded the Best Social Worker. He is a resident of Mylapore.
Lakshmi Srinivasan, Principal of P. S. Senior Sec. School was awarded the best Principal of CBSE School (Below- photo on left).
R. Sandhiya and T. Dhanasekar were recognised as brilliant among physically challenged girls and boys. Both of them are students of Eswara Pandia Dattatreya Special School located inside the premises of Andhra Mahila Sabha, R. A. Puram (Below – photos on right).