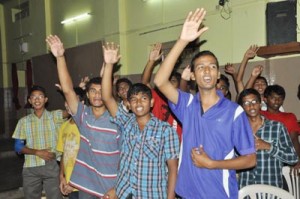 The boarders at St. Bedes Anglo Indian School had a rollicking party on Sunday evening. About 50 of them took part in it.
The party was arranged by members of the Golden Years Club of San Thome, which is made of seniors who live in this area and their friends.
The Club members organised games, carols and snacks for the boys of this school in the campus hall. They had pooled in monies to organise this party, with some big donations made by well wishers.
The Salesian priests here also joined in.
Christmas parties are being arranged now because schools will get into exam mode soon, on the eve of Christmas as per the new time table of the state.