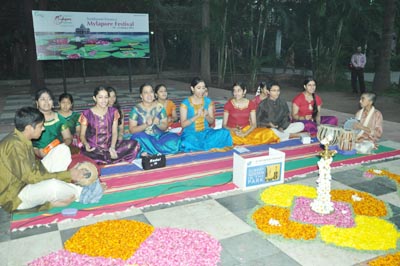 20 students of Chettinad Vidyashram school in R A Puram opened the morning concert on Jan.10 at Nageswara Rao Park in Luz, to launch the 2013 edition of the annual Sundaram Finance Mylapore Festival.
The dew disappeared as daylight appeared and the concert started at 6.30 a.m. at the Chess Square even as a few hundred people walked around and others played badminton and did yoga.
The park was decorated with buntings, some parts cleared of waste and paper and as the bhajan music floated around, it drew many people in for a quick soak in.
There are concerts on all four mornings of  the fest. Audio systems are not used for the concerts. The only nasty element here is that the hordes of mosquitoes drive away people who care to sit or stare.
Over the last two evenings. the Main Stage shows at Sannidhi Square, outside Sri Kapali temple have been at the core of the events that have been held around it, in the lanes and open spaces.
Two evenings of the traditional Bhagavata Mela from Melattur – presenting Bhakta Prahlad and Andal Thirukalyanam – drew sizable audience.
The major cultural events are in and around Sri Kapali Temple, Jan. 10 to 13.
The big drivers on the weekend are the Kolam Contests and the Traditional Games Contests.
More at www.mylaporefestival.com