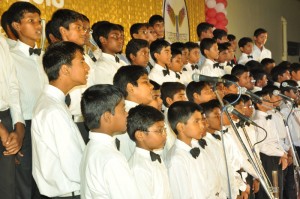 It was a long evening of speeches, awards, stage events and prizes for the best students at the 105th Annual Day celebration of St. Bedes Anglo Indian School, San Thome on Thursday evening, Feb.21.
State minister for school education, N R Sivapathy was to have come but could not make it so the Director of Education, K Devarajan did the honours.
Rev Fr Don Bosco, Rector and Correspondent and  Fr Stanley Ignatius, Head Master from the Salesians community, the congregation which manages this school led the celebrations.
The student community got excited when their colleagues in the school choir, dance and stage groups entertained them this evening.
It was probably the final evening of fun for the students on this campus which will now get ready to conduct the series of annual exams that run in March.