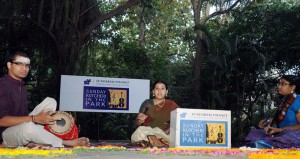 Launched in February 2006, the monthly Sunday Kutcheri in the Park organised by Sundaram Finance has completed 7years. Over 700 children have presented the mikeless Kutcheri at the Nageswara Rao Park in Luz. Mikes and speakers are not used at the kutcheri.
14 year old Baanupriya, a student of Modern Senior Secondary School presented the kutcheri last Sunday (3 Feb.) morning to kick off the 8th year of the Sunday Kutcheri in the Park. ( seen in the photo here)
Baanupriya was accompanied on the mridangam by P.V.Srivatsa (guru: T. Shyamsundar) and on the violin by Parur M.K. Ananthalakshmi (disciple of M .S. Anantharaman and M.A.Krishnaswamy).
Baanupriya is learning music from guru G. Vaidehi / Vasantha Ramesh (disciples of Suguna Varadachari).
The idea behind the Sunday Kutcheri in the Park is to promote young musical talent aged below 15 years and to help them shed their inhibitions and give them the confidence to move up to the next level. Sundaram Finance conducts audition to select the artistes.
For registration: call 94450 34557 or 28521181