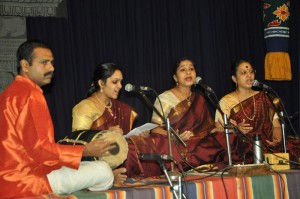 Bharatiya Vidya Bhavan was the venue for the centenary celebrations of Justice K S Venkataraman which took place February 3 afternoon.
A banner saying 'KSV 100' formed the backdrop on stage. The hall was full at 3 pm. KSV's centenary celebration was conceptualised by V. Srinivasan, his son with suggestions from Sulochana Natarajan, Justice KSV's daughter.
It turned out to be an event to spread the message of his life.
KSV was a deeply religeous person and never missed his nityakarmanushtanam and it was apt, therefore to begin the celebrations with a pooja at 3 p.m. 
Bama Visweswaran said a prayer and veda parayanam followed.
Sulochana Natarajan, a musician herself spoke on 'En Thandaiyum Karnataka Isaiyum'. She recalled how her father had engaged the best of music teachers for her in order to mould her into a fine musician and how happy he was to see its fruition in her contribution to Ramana Sangeetham.
KSV's grand daughters Dr. Ambika Kameshwar and Dr. Sarada, and his great grand daughter Vaishnavi Poorna paid a musical  tribute to him by singing some of his favourite songs.
The choice of songs included Nannu Vidachi of Tyagaraja, Lalithambikaam of Muthuswami Dikshatar, Asaindaadum mayil onru of Oothukkadu Bhagavatar, Muthu Tandavar's Aadikkondaar (on Lord Nataraja – KSV's Ishta Deivam) and two of his favourite songs from the Ramananjali repertoire.
KSV was as fond of listening to discourses as he was of hearing good music and hence he would spend his evenings either at a kaccheri or a katha kalakshepam. He loved hearing the Mahabharatam , andKrishnan Thoothu was a topic he often discussed.
G. Kameshwar's story rendition of Krishnan Thoothu was therefore most welcome that evening.
KSV, when not occupied in the evenings with listening to music concerts or upanyasams, would surely be seen watching a good Tamizh drama. Dramatist Kathadi Ramamurthy was happy to share his special memories of KSV not wanting to miss even a single scene of the play even to go to the washroom and therefore checking the time of the intermission with him in advance!
This was followed by a small skit penned by S L Nanu and presented by Kathadi Ramamurthy.
Several judges and  advocates of the Madras High Court from where he retired as the 'last but certainly not the least' judges of the ICS cadre were at this event. Among them were Justice Mohan, retired Chief Justice, Madras High Court and Supreme Court Judge, Justice Arunachalam, retired Judge of the Madras High Court and T. R. Rajagopalan, senior advocate of the High Court – they paid their tributes.
Justice Mohan spoke of him as a conscientious judge, ever willing to learn and never fearful of accepting his mistakes or apologising when he recognised he was wrong.
Justice Arunachalam spoke about KSV's regard for all his colleagues and expressed how he would painstakingly go through every minute detail of any given case before deciding the judgement.
Throughout the proceedings, the audience maintained pin drop silence. It was indeed a special event.
Popular laywright C V Chandramohan was the emcee of this event.