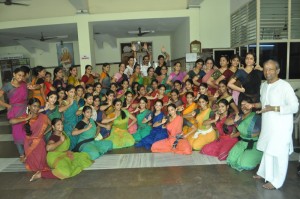 The Summer Abhivriddhi Shaala hosted by ABHAI ( Association of Bharathanatyam Artistes of India) started on 1st of May 2013 and Sheejit Krishna, former faculty of Kalakshetra took Yathi in praise of Lord Shiva for the members of ABHAI.
Members from different schools in and around Chennai from Shaakas and also members from Sri Lanka and Canada participated in the abhivriddhi shaala.
In keeping with the holistic nature of the Abhivriddhi Shaala, 4th and 5th were devoted to lectures – On Nataraja by Dr. Nagaswamy
'A heart to heart' session with Herambhanathan
From May 6 Mumbai-based guru T.K. Kalyanasundaram  of Sri Rajarajeswari Bharata Natya Kala Mandir, Mumbai started  Varnam abhivriddhi shaala .  Members from different dance schools including the senior dance teachers, performers from Chennai along with Chitra Visweswaran President of ABHAI are participating in the abhivriddhi shaala. ( this photo was taken after one such session).