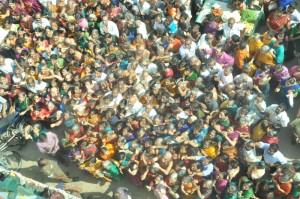 Over 2000 people took part in the maha kumbhabishekam of Sri Alarmelmanga Sametha Sri Srivasa Perumal Temple of Sri Vedantha Desikar Devasthanam in Mylapore was held on May 2 morning.
The two Azhagiyasingars from Sri Ahobila Math and the Srimad Andavan Swamigal. of Srirangam took part in it.
The senior swami of the Ahobilam Math was greeted by the trustees of the temple when he alighted from a car. He was then taken inside the temple in a wheelchair.
The other swami also joined him and the two guided the rituals for this occasion.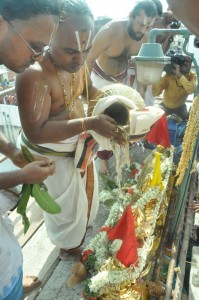 Kumbabishekam rituals was first done for  Lord Perumal and then the kumbham was taken to the five vimanas for consecration.
The priests showered flowers and teertham on the devotees some of whom watched the event from terrace tops on West Chitrakulam Street here.
The temple, said to be about 400 years old is on K P Koil Sannidhi Street.
The brahmotsavam of Sri Srinivasa Perumal here will start on May 13 and is a ten-day festival. Garuda sevai, yanai vahanam and thiruther are the highlights.
The recent event was organised by a team led by the trustees –  R Mukundan, Sundaravaradan and Sreenivasan.