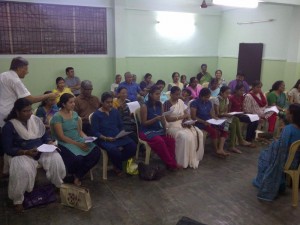 One look at the people gathered in Children Garden School on two weekends and you may have wondered what teens were doing with seniors.
Their common area of interest that brought them together on May 26 and June 2 on these terribly hot Sunday afternoons was choral music.
The hall reverberated to profound music they produced while being trained by the instructors of Madras Youth Choir in the genre of music called Indian Choral Music.The sheer joy of singing in harmony experienced by the participants brought them back together the following Sunday  braving the summer heat, making the  workshop a success.
On popular demand, the workshop has been extended and will conclude with one more free session on June 9.Madras Youth Choir (MYC) is the oldest India Choral group founded by the music legend, late M.B. Srinivasan  42 years ago. MYC conducts workshops for children and adults with the aim of popularizing Indian Choral Music.
MYC functions at 7th Street, Dr. Radhakrishnan Salai, Mylapore. Sunday 2 to 6pm. For further details call 9444930517
– Reported by Rajashree Bhaskaran
Rajashree Bhaskaran is part of Madras Youth Choir