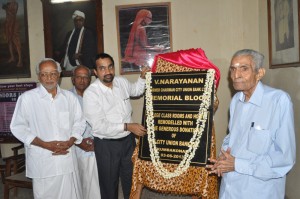 The 150th birth anniversary of V Krishnaswamy Iyer of Mylapore, legal luminary, founder of institutions like the Madras Sanskrit College and the Indian Bank and a philantrophist is being celebrated this year.
At a recent function, a renovated block an a new block on the College campus on Royapettah High Road were opened on June 3 in the presence of Dr N Veezhinathan, chairman of the managing committee of the College and Dr N Kamakoti, CEO of City Union Bank.
D. Madhavan, secretary of a related Trust was also present. ( Veezhinathan, Kamakoti and Madhavan are seen in the photo – left to right)
While the hostel and classroom block was renovated, the new block will now house the College library. All this was done with a Rs.10 lakhs donation by City Union Bank.