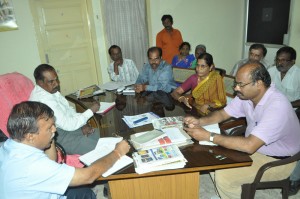 Metrowater held its monthly Open House today. These meetings are held every second Saturday of the month at the area zone office of Metrowater. Consumers can drop by to raise issues or file complaints or followup on pending issues.
At today's meet held at the office on Dr Ranga Road ( near the C P Ramaswamy Road junction), over a dozen people came by to discuss local issues on water/sewage.
The meet is held from 10 am to 1 pm.
Area Engineer Muthukrishnan handles operations in this part of Mylapore. Contact – 8144930909