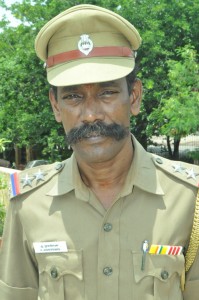 A police officer based at the E5 Foreshore Estate Police Station has been held up as an example to follow by city police.
And the recommendation has come from no less than the Chennai City Police Commissioner, S. George.
Be courteous to people. Consider their case when people approach you. This is the message that the city's top cop has for his officers and men.
And it is a message that takes off from a recent case handled by A. Janakiraman, a Grade I Police Constable posted at the police station in a colony close to the Marina Beach.
Janakiraman did what every policeman is expected to do. He entertained the case of a Mandavelippakam resident, lent a hand in dealing with it and helped the resident get what was required in this case.
For this simple act, the resident not only thanked him but sent a letter of appreciation to the Police Commissioner who in turn held up this positive act to his men.
Sankaran, a senior chartered accountant had been to the Foreshore Estate police station in early June after he lost his Post Office Savings passbooks.
He was seeking a certificate for the issue of duplicate passbooks by the local post office. Though this matter was not the kind that Janakiraman who was present here handled he entertained it and briefed Sankaran on what he had to do.
The police man then processed the plaint, got the certificate organised from his colleagues in the Crime department, called Sankaran and had the note handed over.
Says Sankaran in a statement, "In my 40 years as a professional and in social service I have not had such a customer-friendly experience."
A native of Arcot, the 52-year-old Janakiraman joined TN Police Service in 1986. His job at the local police station requires him to co-ordinate data and complaints and process such matters.
On Friday though he was greeted with a stream of phone calls after the dailies reported his effort and the Commissioner's commendation.
"It is a satisfying moment. But I am doing what we are supposed to do," he said.
This police station is located in the Housing Board apartments complex in Foreshore Estate.
—