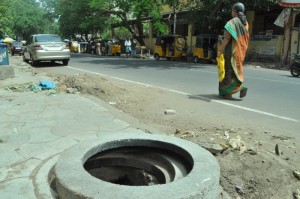 Open or broken drains pose a big danger to people, especially small children. The death of a small child who slipped into a drain in Taramani in the south part of cthe city created a big uproar.
The Chennai Corporation said it was launching a drive to make sure open or half done drains would be closed to prevent accidents.
Last week, our photographer shot this picture of the cement lids of the openings in drains on Venkateswara Agraharam road ( opp. Hotel Shelter) were by their side and the drains open.
Now, at least three schools are located in this area and a huge number of kids walk down everyday, thus exposed to this danger.
— If you come across serious civic issues, please mail a note to Mylapore Times – mytimesedit@gmail.com – and attach a picture too. We will publish this.