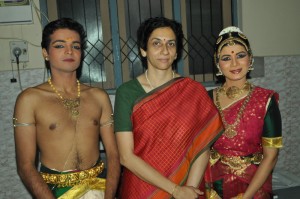 The final show of the annual thematic dance festival of Natyarangam will be held this evening ( Aug.2) at Narada Gana Sabha's hall in Alwarpet.
The theme this year is Bhoopaala Bharatham, looking at the kings which nurtured among many things art and culture.
This evening's theme is built around the Wodeyars of Mysore.
The fest started on July 28. Before the recital, a specialist in the subject presents a talk.
Photo shows scholar Dr. Chithra Madhavan who spoke on the Pallavas, Mahendra and Narasimha Pallava and the two dancers who performed that evening, Bhavajan Kumar and Divvya Shiva Sundar.
– Short video clips of the recitals are posted at www.kutcheribuzz.com