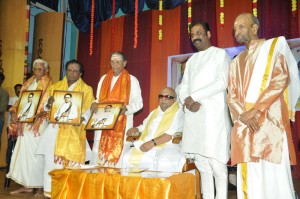 DMK leader M. Karunanidhi was the chief guest at a function hosted by the Muthamizh Peravai Trust based in R. A. Puram on August 27 to honour senior music artistes. This is an annual event at which senior tavil, nadaswaram and other music artistes are decorated with titles.
The event remembers the famed nadaswaram vidwan T N Rajarathinam Pillai. This time it was his 115th birth anniversary.
This time around, the three artistes honoured were Aasalapuram Chinnathmabi Pillai, Keevalur N. G. Ganesan and Illupur R. C. Nallakumar
Poet-lyricist Vairamuthu and senior Carnatic music vidwan and flutist N. Ramani were special invitees.
The event took place at the auditorium named after T N Rajarathinam Pillai, off the Adyar bridge and diagonally opposite MGR Janaki College for Women.