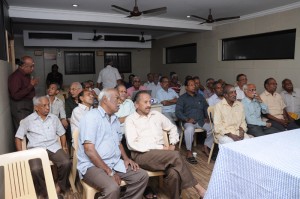 Alumni of the 1963-'64 SSLC batch of P. S. High School have been having periodic meets in Mylapore to network, plan and organise their alumni golden jubilee event in 2014.
Recently, they meet at a local hotel to brief members of their spadework and plans ahead.
However, the core team wants to make contact with everyone who studied at this time at P. S. School so that they manage a big gathering at the January 2014 party.
If yuo know of senior alumni of P. S. High School, do pass the word around and let batchmates contact N.Venkatesh (8939571710) or P.M.Sridhar (9941008080).