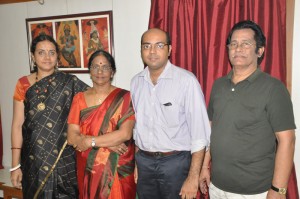 The run up to the December Season of music is warming up nicely with a few arts bodies hosting concerts in a series.
Shanmukhapriya, managed by the people who manage the famed Swamy's Publishers launched its music fest on Tuesday, Nov.19 with a concert by Swarna Rethas after Gayathri Girish's daughter who learns music like her mother sang the prayer song.
The team of Shanmukhapriya is led by  Gayathri Girish, Brinda Venkataraman, V Sanjeev and K Y R Appathurai. ( seen in photo)
Concerts go on till Nov.24 and are open to all. The venue is next to the BSNL Exchange on R K Mutt Road, Mandaveli.