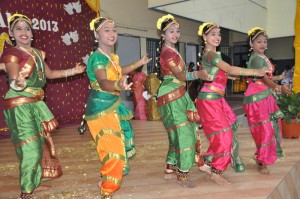 The mild chill weather served a nice atmosphere for the 'old students' of St Anthony's Girls School to go back to campus and soak in all things past and warm.
The school, on Madha Church Road in Mandaveli and managed by the nuns of the Bon Secours congregation here welcomed the girls on Saturday morning.
There were a series of formal events indoors – speeches, dances and music and then the old girls spread out to shop a bit, dig into some snacks and catch up with classmates they had not met for long.
Seen on campus was one famed alumnae – dancer and guru Roja Kannan. Not many who were in classes of the 60s made it but many who studied here in the 80s were here to celebrate.