The Sundaram Finance Mylapore Festival 2014 kicked off to a musical beginning in the morning, dance recitals by sishyas and gurus, and cultural dances by a Kerala troupe in the evening, and in between the arts and crafts zones and photographic displays are also garnering their share of attention.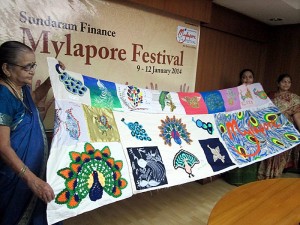 The Mayil Mosaic is a grand piece of art and craft work joining together fabric tiles of 12×12 inch size displaying the national bird and a trademark of the old Mylai in all shapes, sizes, colours and forms. The pieces have been contributed by women and children and stitched together for the fest. Displayed opposite to the Rasi Silk showroom.:
The Chennai Weekend Artists (CWA) are a group of people who sketch people and parts of the city on weekends. They are displaying their art works at nominal prices on Kapali East Tank Street and Pitchu Pillai Street, around the temple tank. Here's a photo contributed by Ganapathy Subramaniam of the display on day 1.