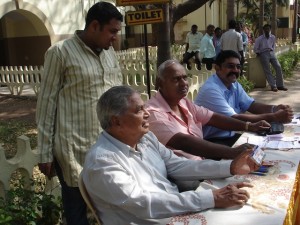 The 'old boys' meet of St Bede's Anlgo Indian School in San Thome had a lazy start on Sunday, January 26 but as the clock clicked 11 a.m. there were at least 200 alumni m- all of them hanging around the walkway beyond the security office.
Many of them wondered why they had kept standing but not many complained as they rewound to their school days or caught up with classmates.
The Republic Day parade had just got over down the beach road and people who attended it were getting back home when the Old Bedeans dropped into the school campus where work on building a new block on the south side is on.
The senior most alumni, F J Vincent, of the 1945 batch and his committee members at the reception desk signed in the guests and sold lunch pack tickets too.
There were a few old boys who studied here in the 60s but most were of the 80s and 90s; they formed their own hangouts and chatted till the call for the AGM in the audio-visual room in the old block's first floor was called for.
Once the business part of the meet was over it was time to unwind. Many felt the need for a temporary beer counter to ignite the fellowship but they also realized why this was not practical. "Doing this once a year is welcome but some young boys tend to go over the top after a drink and that discourages the thought of a suggesting even a beer bar," said once who was a  top ranking athlete in his schooldays.
Photo shows the OBA reception desk; F J Vincent, Denzil, Yohannan John and Deepak Raj ( standing).