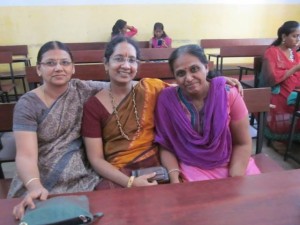 This was a quiet party, if you would like to call it one. When the alumnae of Lady Sivaswami Ayyar Girls School in Mylapore met up on Sunday last, January 26 there were a few emotional moments.
Moments for the women who chose to seek out the classrooms where they had once schooled, sit on the benches here and click keepsake pictures.
The tables and benches may have been new, but rewinding to the 80s for old girls like Seethalakshmi Subramanian and Rajashree Bhaskaran. The duo and their batch mates sought out the Class 12A classroom and shot pictures of themselves.
The meet was well organized; a reception desk to welcome the 'girls', some smart games to loosen up, informal meets and a finale by noon.
Photo featured here is courtesy of Seethalakshmi Subramanian.