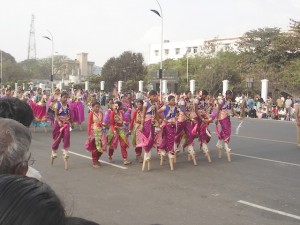 Two Mylapore institutions were recognized for their performances at the Republic Day parade held on Kamaraj Salai in Mylapore on Sunday, January 26 morning.
Prizes were announced for the troupe of St Raphaels Girls School which is located on Kutchery Road, San Thome and for the girls of Queen Marys College, a campus which overlooks the Marina beach, just where the VIPs sat to watch the hour long parade.
Both teams presented folk dances set to recorded music.
The parade was held after the flag hoisting event near the Gandhi statue. Groups of the police, commandos, CRPF, military, Home Guards, NCC marched down the road, past the saluting base and these were followed by the bands of a few city schools including one of Rosary Matric and the performers from city schools and colleges.
Prizes were presented to the winners by the state Governor at his At Home tea reception held at Raj Bhavan.