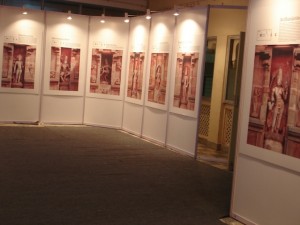 A major exhibition on the Sri Brihadeeswarar Temple in Thanjavur has opened on Wednesday at Bharatiya Vidya Bhavan on East Mada Street, Mylapore.
The focus is on the world renowned heritage site, a living temple and all the living traditions that are associated with it.
The show is presented by the Delhi based Indira Gandhi National Centre for the Arts ( IGNCA) and will be open to all till March 31. Open from 10 am to 7 pm.
On March 20, there is a daylong seminar here with resource people like guru and dancer Dr Padma Subrahmanyam, archaeologists Satyamurthy and Nagaswamy speaking at sessions.
The exhibition is spread across three floors including the lobby and gives you a fantastic panorama of all aspects of this great temple, a result of 20 years of work on the ground and in-house.
The show looks at the architecture, iconography, art and rituals here. There are displays of spaces of the temple that you will not new able to see with the naked eye when you visit the temple in Thanjavur.
It needs at least 45 minutes for you to take in all the displays here and it is worth the time.
IGNCA has also released a DVD on this temple and is on sale here.