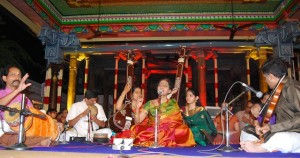 A galaxy of top Carnatic music artistes and teams of dancers will feature in the Vidyarti music series that follows the Panguni utsav at Sri Kapali Temple, Mylapore.
The series started on March 18 and ends on March 28. The first concert was presented by Bombay Jayahsri accompanied by Embar Kannan on the violin and J Vaidyanathan on the mridangam. ( featured in this photo)
Featured at this fest are T M Krishna ( March 19) and Sanjay Subrahmanyam ( March 27) besides others.
There are also dance recitals by students of gurus Sheela Unnikrishnan and Krishnakumari Narendran.
Open to all.
Recitals start at 6.30 p.m.