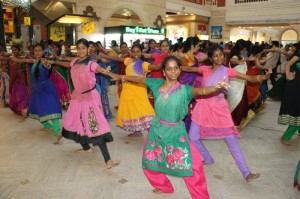 Over 70 Bharatanatyam dancers staged a Flash Mob recital at CitiCentre shopping mall in Mylapore on Tuesday evening.
The unusual event, an idea floated by ABHAI, a association for classical dancers based in the city took the early evening shoppers by surprise and gave them and shop keepers a visual delight for about 15minutes.
The event was held to mark International Dance Day and the Flash Mob idea was strongly mooted by the younger dancers of the city and the mall became an obvious choice.
"Also, we want Bharatanatyam to get closer to people," reasoned ABHAI president and senior dance guru, Chitra Visweswaran.
As the music began to play on the mall's audio system, a few dancers who had mingled with the shoppers in the atrium gently floated into dance movements, and in course more dancers joined them – some in saris, some in salwar-kameez and some in dance practice attire.
Soon, there were dozens of dancers in the middle and the spectacle caught everybody's attention with shoppers on all the floors getting their attention.
Once the performance was over many people began to interact with the artistes. The intention had worked.