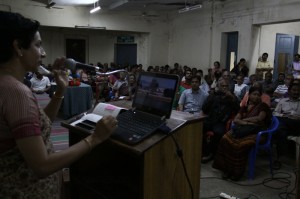 When you go to a temple slow down to look at the art and architecture – a piece of advice that scholar Dr Chithra Madhavan gave the audience who were present on May 7 at her talk on ' Sri Kapaleeswarar Temple' at the Srinivasa Sastri Hall, Luz.
Chithra gave an illustrated talk which focussed a lot on the sculptures on the base of the entrances to the temple which is said to be about 350 years old, on the gopurams and vimanas and on the pillars and mantapams here.
The talk was part of the Parthasarathy Mudaliar Memorial Lecture organised by the South Indian National Association and Ranade Library. IAS officer Dr T S Sridhar presided.
Over 300 people attended.