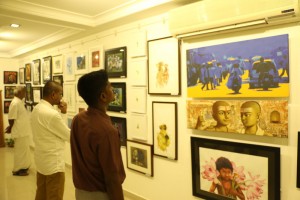 It is called the  Annual Affordable Art Show and it has opened at Vinnyasa Premier Art Gallery located in CIT Colony.  Two senior and acclaimed artists R. B. Bhaskaran and Achuthan Kudallur, both from the city formally opened the show on Friday evening.
The unique feature of this show curated by the gallery's promoter Viji Nageshwaran is that it displays a huge variety of art – paintings, drawings, sculptures and more – created by various artists. And the artists are from the internationally known to the student of art who is graduating from college.
Also, the pricing of the art works make it affordable for even middle class families.
This show  is on till June 30. At Vinnyasa Premier Art Gallery, No.21/11, C.I.T. Colony, 1st Main Road, Mylapore. Ph: 24982515, 32533655.