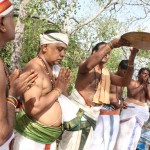 The kumbhabishekam of the Sri Vinayaka Temple on TTK Road in Alwarpet was held on Sunday morning. Over 300 people who reside on both sides of this busy road took part in it as the main rituals began at 8.15 a.m.
For almost a month, the entire temple premises, small in size was renovated and artists hailing from different parts of the state were hired to brush up and repaint the images on the vimana and gopuram.
The temple is an old one and is considered to be the first that served what was only the village of Alwarpet.