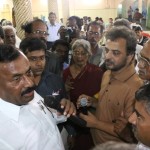 A majority of people who attended a consultation held by Chennai Corporation on plans to build a flyover at Mandaveli junction said that the suggestion to have the flyover across Venkatakrishna Iyer Road and South Canal Bank Road is not good and that it must be built on R. K. Mutt Road.
The meet was held this evening ( June 23) at the civic body's community all on C P Ramaswamy Road, Alwarpet in the presence of the city Mayor, Saidai Duraiswamy, Mylapore MLA, Rajalakshmi and local area councillors.
At least 75 local residents participated.
The consultant to the project EGIS India made a presentation on the study it had conducted on traffic flow, demand and local conditions. Its representative said that the first option was to build the flyover across R K Mutt Road at the junction where the MTC bus terminus is.
But the company rep also said due to narrowness of this road in many places and high density of habitation, the second option was to build it across Venkatakrishna Iyer Road and Sound Canal Bank Road.
Many people said that the traffic was intense on R K Mutt Road on the north to south side and that it was very low on the other cross section.
The Mayor said that flyovers were planned to tackle the increasing traffic volumes at busy junctions and that such meetings were held to seek the comments of people. He said the study had also considered the demands of  people who commute in this area but hail from other areas and the traffic trend in the decades ahead.
However, nobody was very convinced with his argument. The Mayor said he welcomed further feedback on the project.
If the project as suggested now by the consultant is considered a slice of private property on the edge of both roads will have to be acquired but the consultants said it was minimal and that market rates would be given to the owners who had to part with the slices.
The planned flyover, starts near Sankara Netralaya in the west side and drops some metres away from the St. John's School gate on the east side.
Comments and feedback may be sent to – mahesh.s@egis-india.com