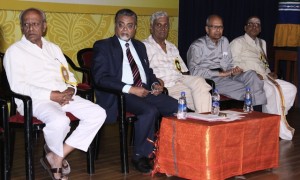 The finale of the 150th birth anniversary of a very well-known Mylaporean, V. Krishnaswami Iyer was held at the Bharatiya Vidya Bhavan, Mylapore on Saturday morning.
The year long celebration has included academic meets and honoring of scholars.
At Saturday's event, the guests were T.V. Ramanathan – President Sri V. Krishnaswamy Iyer Sanskrit Education Trust, Justice F M Ibrahim Kalifulla – Judge, Supreme Court Of India, Natarajan – IAS officer, .Justice T.S. Arunachalam, Dr. M.K. Mani – Apollo Hospitals, Chennai and Dr. N.V. Devi Prasad – Principal, The Madras Sanskrit College.
Krishnaswami Iyer achieved much in the short span of his life in Mylapore where he began as a well known lawyer. He became a judge of the Madras High Court. He is credited with the foundation of many institutions like the Madras Sanskrit College and Indian Bank and was involved in India's freedom movement.