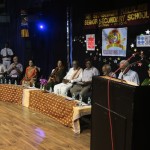 It may have been a a sober, simple event to celebrate the silver jubilee of Sivaswami Kalalaya school but it kept the focus on the milestone. Held at Bharatiya Vidya Bhavan in Mylapore on Saturday morning, the chief guests were K. Chandru, former judge of Madras High Court and social activist Dr Nanditha Krishna.
A string of short music and dance recites by students launched the event. One was a delightful villu-paatu styled narration of the school's history.
Student volunteers who curated and supported the event were honored on stage.
Vathsala Narayanaswami and T R Mani of the Socirty which manages this school, Dr Prema Kasturi, Secy of the school and M S Jayasri, school principal in charge were present with other school teachers and staff.
Missing though at this function were parents of the children; there were only a few at the venue.