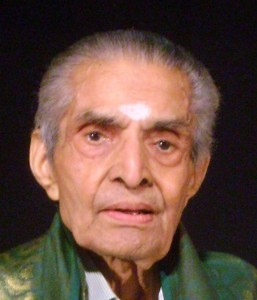 B. Madhavan aged 89 years passed away on June 29, 2014 at his residence. He was the grandson of Justice Krishnaswamy Iyer and son of K. Balasubramania Iyer. Sanskrit education and its culture was maintained by Madhavan.
He retired as AGM of Indian Railways. A connoisseur of music  and literature, he could sing and deliver lectures on music. His lectures on Tyagaraja and Ramayana showed his in-depth knowledge in the subjects. He founded 'Rasodaya' – a forum for propagating  the essence of literature.
Soft-spoken, humorous and at other times sarcastic too following the traits of his ancestors, he was good at heart and unassuming. He respected everyone and never spoke harsh words. He was recently awarded the title 'Kuladharma Rakshaka'. Sanskritists in Tamilnadu mourn the death of Madhavan whom they consider the guardian and custodian of Sanskrit and its culture.
He is mourned by his family Parvathi Madhavan, M. Anand and Ambika Anand. They can be contacted at 'Ashrama', 28, Luz Church Road, Mylapore. Ph: 24992582 / 9840087582.