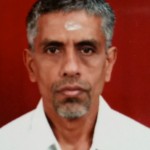 S. Parthasarathy, son of late K. R. Srinivasan passed away on June 29, 2014. He was a typical Mylaporean by heart and action, who lived in Mylapore for over 3 decades, his family said. A devotee of Lord Muruga, he was up early in the morning and would visit all the local temples in his area before going to work, his family said.
He worked as an advertisement manager at Indian Express and retired from Times of India. Simple, friendly and devotional by nature, he liked listening to slokas/Vishnu Sahasranamam. He preferred walking and loved kids.
He is survived by his mother Annapurani, wife Bhavani Parthasarathy and daughter Bhavadharini Parthasarathy, son-in-law R. Badrinarayanan, sister Chitra Srikanth, and brother Subramanian Srinivasan.
The family can be reached at A6/16 Kallukaran street, Mylapore. Ph: 9940095532 / 24660992.
– Report by Badri Ranganathan