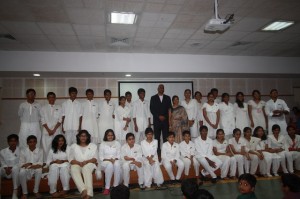 The eighth Prefectorial Board of Chettinad Hari Shree Vidyalayam, led by Head Boy P. C .Siddharth and Head Girl K.B.Shree, was sworn in during a solemn ceremony on 9st July. The Executive Committee members of the Council were elected through an electronic voting process conducted in school, earlier.
The chief guest, Shaun Jayachandran spoke about the benefits of sports in enhancing academic performance, character building and team spirit. He encouraged the children to follow their chosen passion and use it as a vehicle to make an impact and reach out to those around them.
He also mentioned the immense responsibility the prefects have to shoulder and how they can make a difference in every small way when discharging their everyday responsibilities.
The principal, Deivanai congratulated the newly elected office bearers.