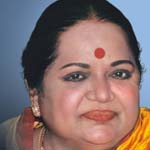 A rich tribute to Carnatic musician and playback singer M. L. Vasanthakumari will be held on July 2, 2014 at Mylapore. A DVD on her and other gurus will be screened at 5.30 p.m.  Her popular Carnatic songs and film hits will be rendered at 6.15 p.m. followed by a musical tribute 'Guru Vandhana' by her disciple at 7.15 p.m. All rasikas are welcome.
Tune in to the web relay at:  http://www.arkayconventioncenter.in/live.aspx.
At Arkay Convention Center, 146/3, Royapettah High Road, Luz, Mylapore. Ph: 24997529.