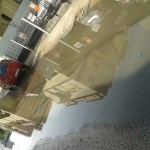 San Thomites who reside in the Dooming Street area say they are having a very hard time since the sewage overflows time and again despite stopgap repairs by Metrowater and the pollution gets compounded when it rains.
A resident of Venkataswamy Street, Susan Gerard says that this condition occurs almost every other week.
"Five sewage outlets keep overflowing one after the other. When it rains, water stagnates. It is becoming difficult to stay in the house and to cross the road and the place stinks," says Susan who also shared  photos taken when the street was flooded.
The sick living in the area are miserable, she states. Also, lots of school children pass this area everyday and they have no other option but to step into this dirty water. Metrowater staff do not respond fast to clean the overflowing sewage, she adds.